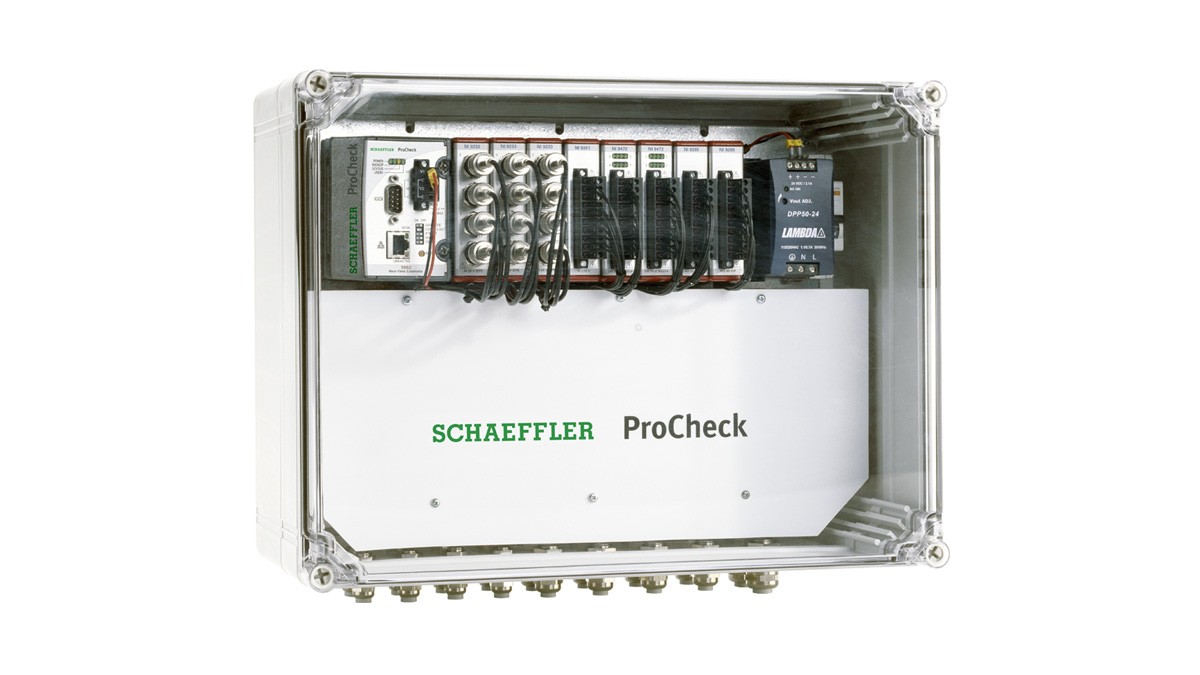 ProCheck is een flexibel online-bewakingssysteem. Het is bedoeld om ongeplande stilstand te vermijden en ter kwaliteitscontrole. Het systeem is uiterst functioneel en beschikbaar in verschillende varianten – van 8 kanaals- tot 16 kanaalssysteem.
Bewaakte parameters
De ProCheck registreert de gegevens over de trillingen, temperatuur en andere procesparameters doorlopen en analyseert deze aansluitend. Zo kan al in een zeer vroeg stadium beginnende schade en de oorzaak daarvan worden herkend, en kunnen de benodigde tegenmaatregelen op tijd worden ingezet. Daardoor dagen de bedrijfskosten aanzienlijk.
Daarnaast biedt ProCheck de mogelijkheid meerdere analoge en digitale in- en uitgangskanalen te correleren met de trillingsgegevens. Via deze kanalen is een eenvoudige communicatie tussen het systeem en bovenliggende systemen mogelijk, bijv. procesbesturingssystemen.
Flexibel systeem
Door het zeer robuuste en compacte ontwerp is het systeem voorbestemd voor gebruik in bijna alle industriesegementen. Of het nu on een staalfabriek, aan een papiermachine, in een cementfabriek of in de olie- en gasindustrie gaat, het systeem kan worden gebruikt.
Controle op afstand
Fouten en schade aan de machine kunnen worden herkend zonder dat een operator ter plekke is. Via de toegang op afstand kunnen de gegevens naar andere vestigingen worden gestuurd en daar bijvoorbeeld door de Schaeffler-trillingsexperts worden geanalyseerd.
Explosieveilige varianten
Op verzoek is ook een explosieveilige versie van ProCheck beschikbaar. Deze uitvoeringen hebben een drukdicht ingekapselde behuizing die voorkomt dat het systeem in aanraking komt met explosieve atmosferen. Want overal waar brandbare gassen, dampen, vloeistoffen of stoffen ontstaan, kan door contact met zuurstof en een ontstekingsbron, snel een explosie plaatsvinden.
Klantspecifieke oplossingen
De voor de installatie van de klant aangepaste visualisering resulteert in een bedieningspaneel dat snel een overzicht van de toestand van de installatie biedt. Afhankelijk van de complexiteit van de installatie kan deze visualisatie over meerdere niveaus zijn verdeeld.
Share Page