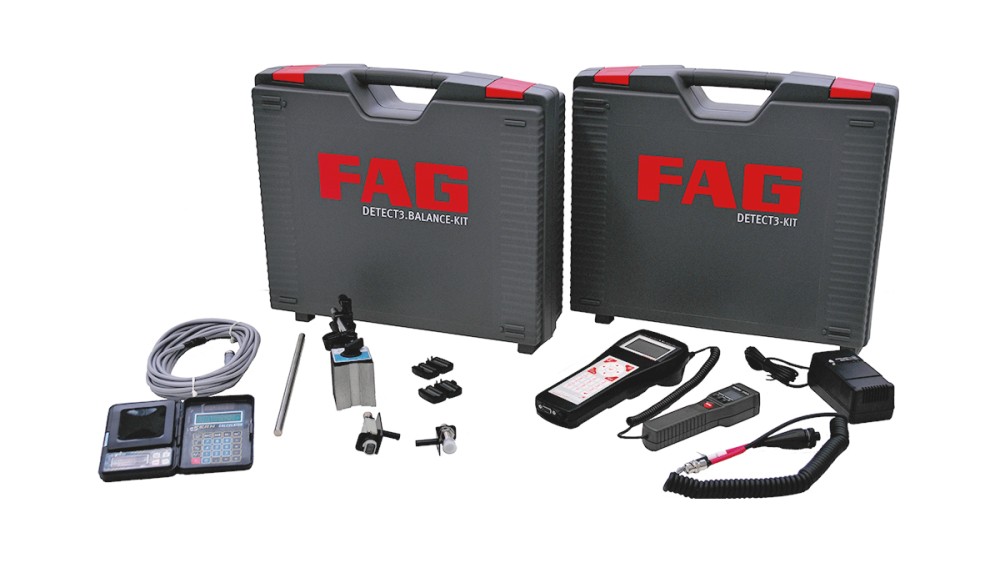 De FAG Detector III is een handzaam, eenvoudig te bedienen trillingsmeetapparaat. Door de voorgeïnstalleerde standaardconfiguraties conform DIN ISO 10816 is het een echte plug-and-play-oplossing en zorgt voor directe zinvolle informatie over de machinetoestand, geheel zonder langdurige training of systeemconfiguratie.
Zo is bijvoorbeeld een snelle controle van ventilatoren, pompen, elektromotoren, compressors of vacuümpompen mogelijk. De gebruiker moet de meting alleen met een paar drukken op de knop opstarten en wachten tot ze klaar is. Het apparaat analyseert de meetresultaten en geeft het resultaat met voor zichzelf sprekende symbolen weer op het scherm van het toestel.
Andere kenmerken van het systeem zijn:
Contactloze temperatuurmeting
Registratie toerental
Routefunctie
Rapportgenerator
Analysesoftware
Voor meer gedetailleerde analyses is de pc-software Trendline beschikbaar met een breed scala aan functies. Hiertoe behoort onder andere de Viewer, die de gebruiker vele hulpmiddelen biedt voor de analyse van gegevens. Door de geïntegreerde wentellagerdatabank, die ongeveer 20.000 lagers van verschillende fabrikanten omvat, wordt de analyse van de gemeten gegevens eenvoudiger en efficiënter. Aangezien de schadefrequenties ingevoegd kunnen worden in de meetresultaten, is eenvoudige schadeanalyse mogelijk.
Automatische meetpositieherkenning
De automatische meetpositieherkenning identificeert aan de hand van RFID-techniek foutloos en nauwkeurig de meetposities op een meetroute. De FAG Detector III herkent de meetposities met behulp van RFID-tags aan de machine. Hierdoor is de mobiele trillings- en temperatuurbewaking met de bewezen FAG Detector III sneller, eenvoudiger en betrouwbaarder. De automatische meetpositieherkenningsfunctie is niet overal ter wereld beschikbaar.
Uitbalanceerfunctie
De FAG Detector III beschikt nog over een bijzondere functie, namelijk uitbalanceren. Hiervoor is de optionele Balancing Kit noodzakelijk. Zo kunt u onbalans niet alleen herkennen, maar ook verhelpen. De resultaten van het uitbalanceerproces worden ook overgezet naar de Trendline-software en daar geanalyseerd.
Share Page