Inductie-eenheden met middenfrequentietechniek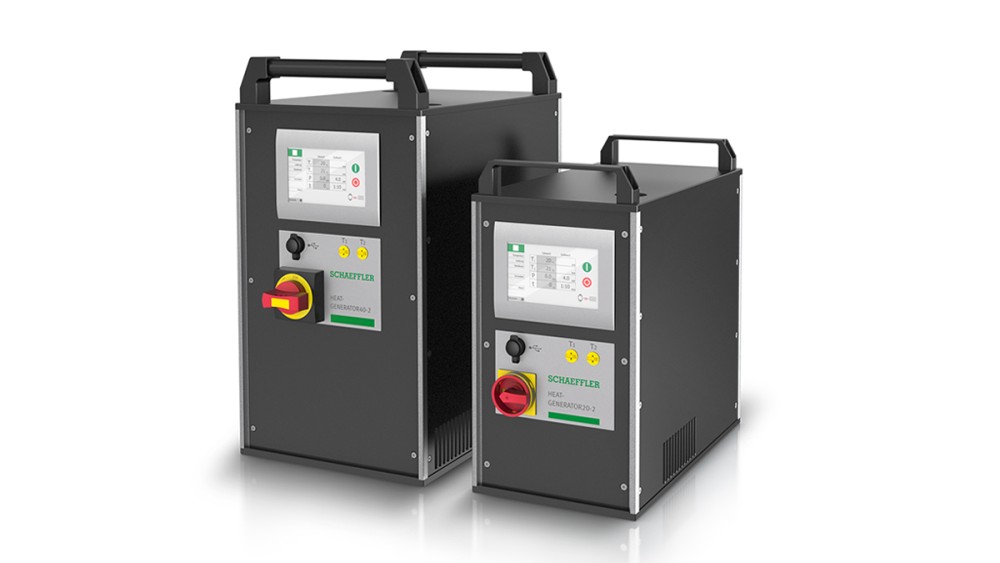 Inductie-eenheden met middenfrequentietechniek zijn anders dan inductieve opwarmapparaten niet alleen voor thermische montage geschikt, maar ook voor demontage. Bovendien kunnen ze worden gebruikt voor het opwarmen van zeer grote en zware componenten.
Het lager zet in de meeste gevallen voldoende uit bij +80 °C tot +100 °C. Tijdens het opwarmproces moet op de maximale opwarmtemperatuur worden gelet. De temperatuur mag bij wentellagers normaal gesproken niet boven de +120 °C komen, zodat de structuur en de hardheid van het lager niet veranderen. Bij alle apparatuur voor het opwarmen kan de temperatuur traploos worden ingesteld.
Deze eenheden zijn op basis van de grote flexibiliteit en compacte bouwwijze ook mobiel inzetbaar. Vandaar dat ze ook kunnen worden gebruikt op bouwterreinen van windturbines of bij andere grote elementen die moeilijk kunnen worden getransporteerd.
De eenheden bestaat uit een generator en een inductor die op het werkstuk wordt geplaatst. Afhankelijk van de vereisten wordt een vaste of een flexibele inductor gebruikt. Flexibele inductoren kunnen afhankelijk van de toepassing in de boring of aan de buitendiameter van het werkstuk worden aangebracht. Flexibele inductoren zijn geschikt voor het opwarmen van binnenringen van lagers of van grote elementen zoals machinehouders in windturbines. De lengte van de inductor wordt aan de hand van de afmeting van het werkstuk bepaald.
Vaste inductoren zijn bijzonder geschikt voor serieproductie. Hier is flexibiliteit minder belangrijk dan korte leeglooptijden en een hoge procesveiligheid.
De voordelen van het opwarmapparaat met middenfrequentietechniek zijn:
Geschikt voor inbouw
Geschikt voor uitbouw
Bedrijfsfrequentie van 10 kHz tot 25 kHz
Rendement van de generator meer dan 90%
Lage energiebehoefte
Korte opwarmtijden
Tijd- en temperatuursturing en andere bedrijfstypes
Automatisch ontmagnetiseren
Zowel flexibele als vaste inductoren mogelijk
Inductoren van binnen en van buiten op het bouwdeel te gebruiken
Minder voedingsoverdracht dan andere opwarmapparatuur met netfrequentie
Bijna geruisloos
Luchtgekoeld systeem
Share Page