Schaeffler Mounting Manager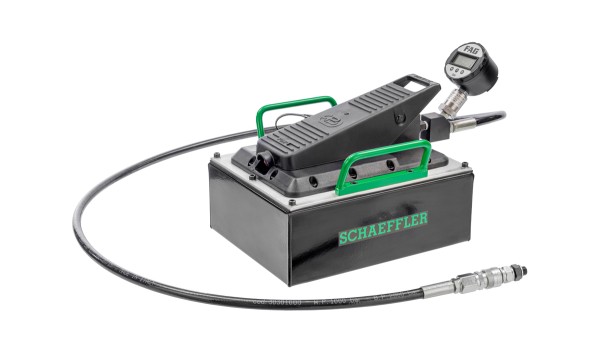 Het Schaeffler-rekenprogramma Mounting Manager is een comfortabel hulpprogramma voor wie de juiste lagermontage wil kiezen en biedt de volgende mogelijkheden:
Het laat verschillende mechanische en hydraulische montageprocedures zien
Het berekent de voor de montage benodigde gegevens m.b.t. de vermindering van de radiaalspeling, de schuifafstand en de startdruk
Het biedt nuttige montagetips
En het stelt een lijst op met de noodzakelijke toebehoren en werktuigen
Berekeningsmogelijkheden voor de montageprocedure
Lagers met een conische boring worden ofwel onmiddellijk op de conische as/taats gemonteerd, ofwel met een span- of extractiehuls op de cilindrische as. De lagerspeling wordt ofwel conventioneel met behulp van voelermaatjes, ofwel via de axiale schuifafstand ingesteld.
a) Montage van lagers met conische boring via meting van de axiale schuifafstand
Het lager wordt met een hydraulische moer aangebracht op de conische lagerhouder in de startpositie. Daarbij wordt met behulp van een digitale manometer rekening gehouden met de voor elke afzonderlijke lager vastgelegde en vereiste startdruk in de hydraulische moer. Naar keuze kan de in de tabel aangegeven verschuifweg met een dieptemaat, schuifmaat of meetklok worden gemeten. De uiteindelijke meting van de radiaalspeling gebeurt echter altijd met een voelermaat.
Deze montageprocedure:
zorgt voor een aanzienlijke verkorting en vereenvoudiging van de inbouwactiviteiten
biedt absolute veiligheid en precisie
maakt de correcte inbouw van afgedichte lagers mogelijk
b) Montage van lagers met conische boring via meting van de vermindering van de radiaalspeling
Bij het verschuiven van het lager naar de conische houder wordt de binnenring breder, waardoor de aanwezige radiale speling van het lager vermindert. Deze vermindering geldt als maatstaf voor de stevigheid waarmee het lager bevestigd is. Deze meting gebeurt met behulp van voelmaatjes.
Share Page