BEARINX-online Easy Linearsystem
Gratis module voor de berekening van INA-lineairsystemen
Online-module voor lineairsystemen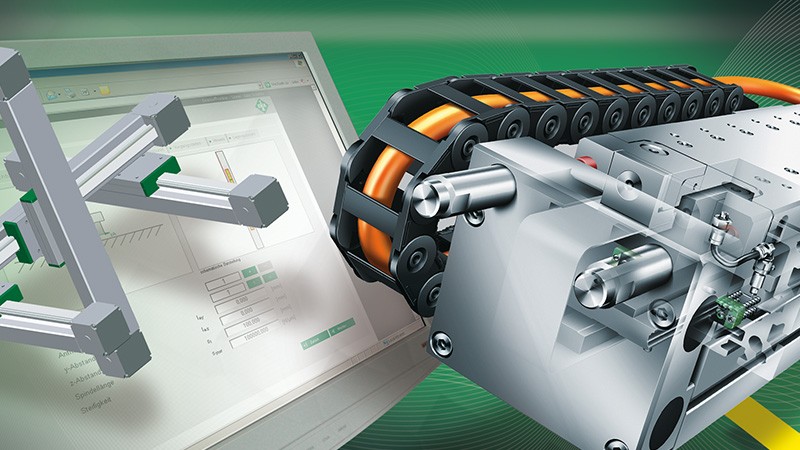 De nieuwe BEARINX-online 'Easy Linearsystem'-module is een logisch vervolg op de al bekende online-software voor profielrailgeleiding 'Easy Linear' en sluit perfect aan bij onze bewezen lineairberekeningsprogramma's.
Met 'Easy Linearsystem' is het vanaf nu mogelijk de nominale levensduur en statische veiligheid van meerassige positioneersystemen met aangedreven INA-lineairmodules te berekenen. Daarbij kan rekening worden gehouden met diverse voor het product typische invloedsfactoren:
Verbinding van alle assen voor een gesloten lineairsysteemberekening
Versnellingen van de massa's van sledes en machinebedden worden meegenomen
Berekenen van mogelijke vervormingen van het lineairsysteem op gedefinieerde plaatsen
Gebruiksvriendelijke interface
Het overzichtelijke menu maakt een snelle en eenvoudige invoer van gegevens mogelijk. Uitgaande van praktijkgerichte, voorgeconfigureerde 1-, 2- of 3-assige positioneersystemen en een vrij te kiezen aandrijving, wordt het door u gewenste lineairsysteem snel gevonden en gevuld met de benodigde parameters.
Alle noodzakelijke bedrijfsomstandigheden kunnen voor elke as apart ingevoerd worden – eenvoudig menugestuurd. Daarbij toont het dialoogvenster voor de invoer van de belastingcycli de sterke punten van het nieuwe online-programma. Naar keuze kunnen snelheid, versnelling, tijd of afgelegde weg voor elke as worden ingevoerd, waarbij het bijbehorende bewegingsdiagram automatisch wordt opgebouwd.
Voor de berekening kunt u kiezen uit een omvangrijk productscala van mogelijke INA-lineairmodules en aandrijvingen.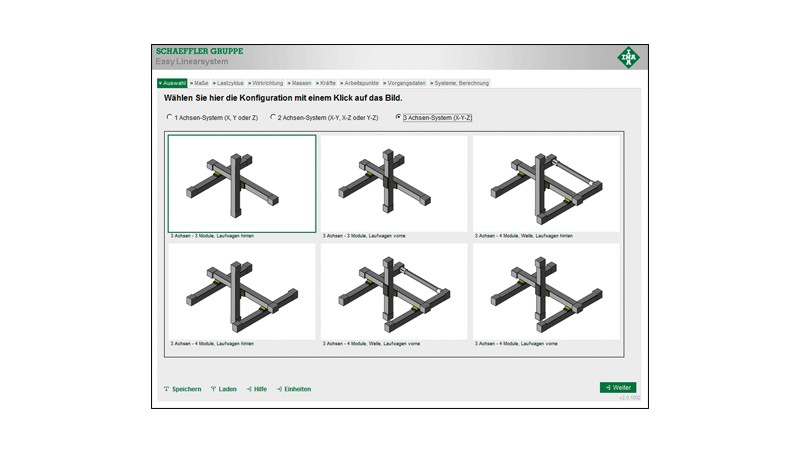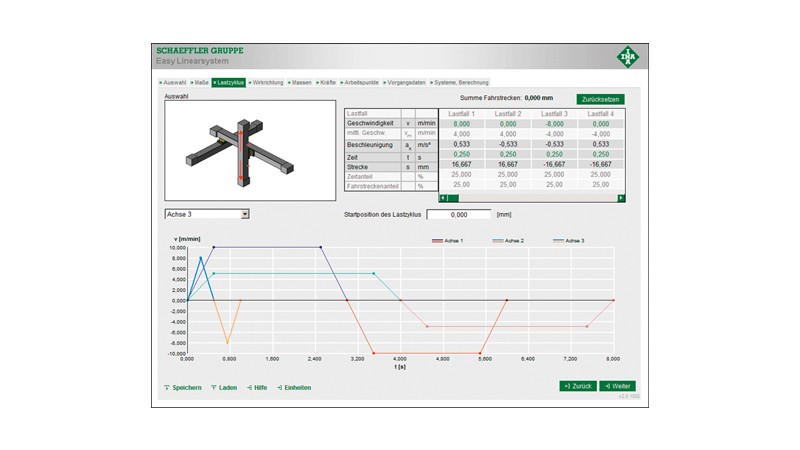 Automatische offerte-aanvraag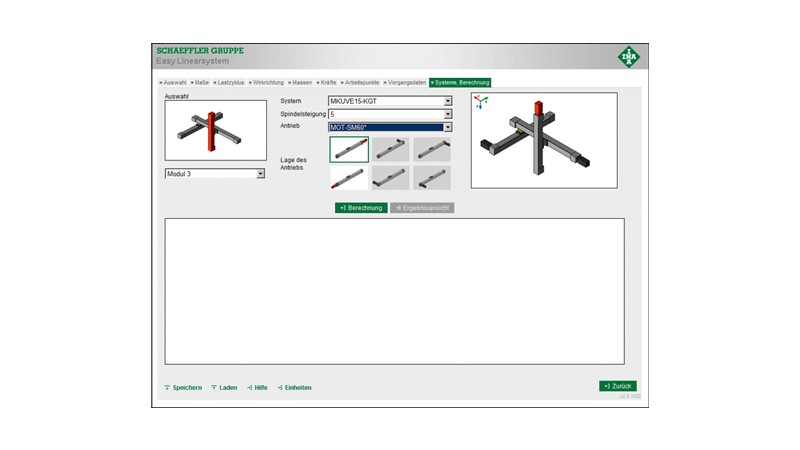 Na een succesvol uitgevoerde berekening ontvangt u per e-mail een samenvatting van de belangrijkste resultaten met een bestand met invoergegevens en een PDF-bestand met de resultaten als bijlage.
Bovendien staat in deze e-mail een link om een offerte-aanvraag te genereren. Deze bevat een automatisch opgesteld overzicht van onderdelen van het door u opgebouwde lineairsysteem, evenals een vrij tekstveld waarin u uw aanvraag verder kunt specificeren. Hierdoor is het voor onze specialisten mogelijk snel een individuele offerte voor u op te stellen.
Registratie en aanmelding
Het berekeningsprogramma 'Easy Linearsystem' is alleen online beschikbaar en kan onbeperkt gratis worden gebruikt. Na de eenmalige registratie, die slechts weinig tijd in beslag neemt, kunt u direct met de berekening beginnen.
Share Page